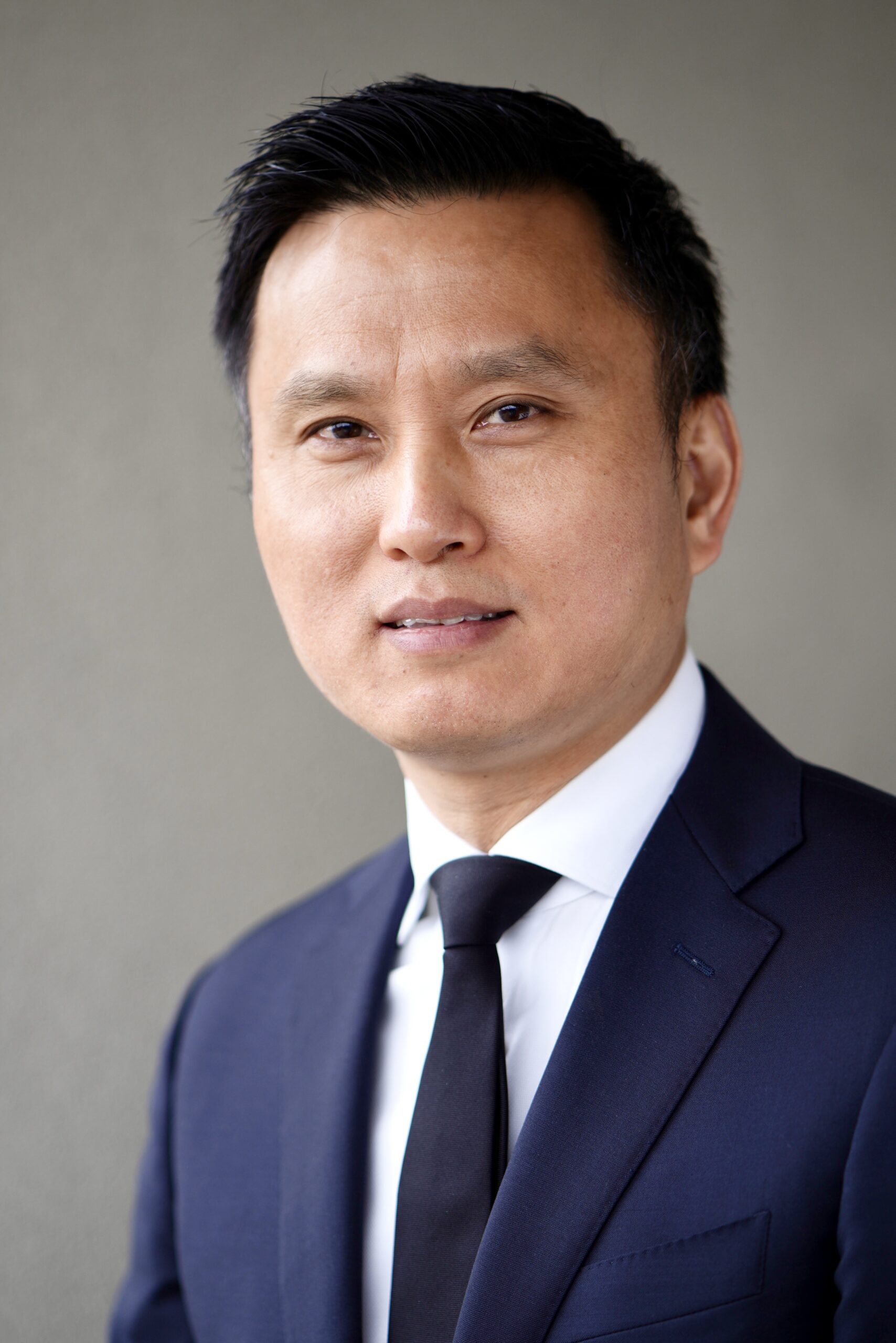 HARVEY SU
For Coquitlam City Council
I'm an educator, entrepreneur, and advocate for sustainable infrastructure and community development. More importantly, I am a father of two beautiful children that has been given the privilege to call Coquitlam home for the past 15 years.
I hope to enable a better transit system to link Coquitlam with more communities and more opportunities. I am advocating for the expansion of the West Coast Express (WCE) service. I believe that a bigger WCE service will be the driving engine for the local economy and encourage more people to use public transportation, thus reducing carbon emissions, creating more local jobs, helping with housing affordability, and transforming Coquitlam from a bedroom community into an economic and cultural centre of Northeast Metro Vancouver, where residents can live, work, and recreate in a safe and harmonious environment.
West Coast Express Service Expansion Plan
Have you taken WCE? Do you know that WCE service has not changed much since the inaugural run in 1995?
Although Coquitlam already has the Evergreen Line SkyTrain, the route to Downtown Vancouver still requires at least one transfer, resulting in more than an hour's worth of travel time. On the other hand, the WCE, with only few stops along the route, takes only around 28 minutes of travel to Downtown Vancouver, saving up over an hour's worth of travel time back and forth.
WCE started its operation on November 1, 1995. Since that date, not much has changed; it still consists of a single line of eight stations, running five inbound trains to Vancouver in the morning and five outbound trains to Mission in the evening during peak commute period, Monday to Friday. Therefore, I am advocating for the service expansion of the West Coast Express so it includes the return trip and increased service in both directions. My goal is to turn this rush hour only unidirectional service into a rapid transit for public.
Request 1: Extending the unidirectional service of the WCE in the morning and evening train service by one hour each, and adding WCE service during weekend and public holidays.
Request 2: Adding bidirectional service between Port Coquitlam and Waterfront Vancouver with one more station in Burnaby and one more station at Hastings Park in Vancouver.
Request 3: Adding bidirectional service between Port Coquitlam and Mission City with one more station at Albion in Maple Ridge.
Request 4: Adding designated rail tracks to allow all day bidirectional WCE service.
Benefits of the West Coast Express WCE Service Expansion:
Provides better connection between Coquitlam, Downtown Vancouver, and eastern regions including Pitt Meadows and Maple Ridge. More WCE ridership will promote economic development of the entire Fraser Valley region.
Offers more travel choices and less travel time for Coquitlam residents.
Attracts more tourists from other cities to Coquitlam, boosting our local economy.
Creates more local job opportunities.
Attracts more people to use public transportation, helping reduce carbon emissions which will assist the City of Coquitlam's goal of achieving carbon neutrality by 2050.
Attract More Family Doctors to Coquitlam
Are you without a family doctor? Are you concerned about increasing wait times to see your doctor?
Currently, around 20%, nearly one million, BC residents do not have a family doctor, and those who recently moved to Coquitlam have faced similar struggles. Although health care is a provincial mandate, the City of Coquitlam can still take proactive steps to address this crisis.
I will support introducing incentive policies to attract more family doctors to practice in Coquitlam by
Waiving business registration fees;

Implementing simpler registration procedures;

Increasing the amount of medical office space;

Offering administrative support so that family doctors can focus on practice;

Creating a fund by donation to offer scholarship/incentive to medical school students and family doctors with commitment to practice in Coquitlam for a number of years.
will support introducing policies to attract more family doctors to practice in Coquitlam by waiving business registration fees, implementing simpler registration procedures, and increasing medical office space.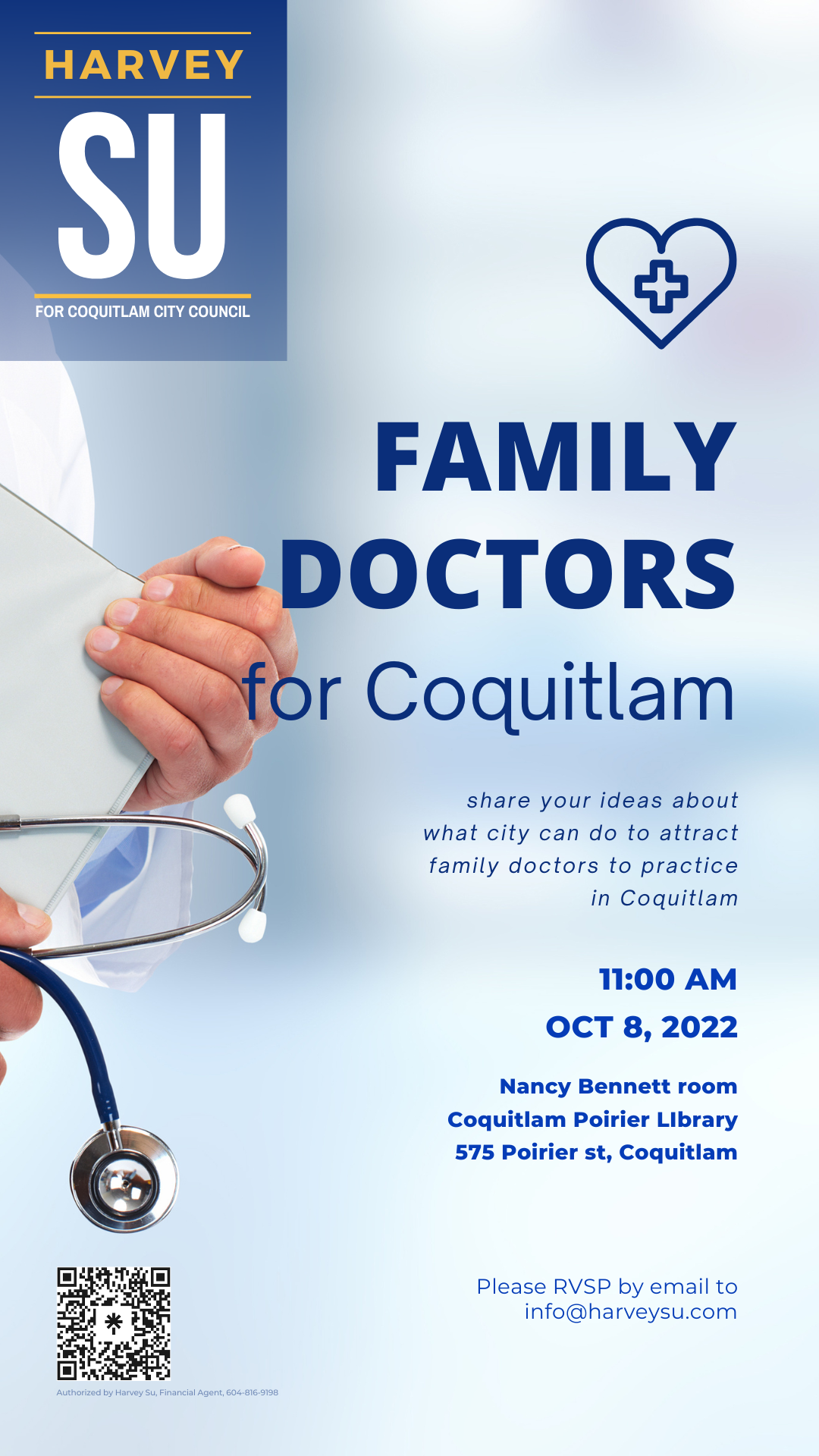 For A Vibrant, Inclusive, And Welcoming Coquitlam
I moved to Canada from Shanghai, China in 1999.  I have engaged in biological research for several years. After I earned my Master of Science degree from UBC in 2004, I worked as a Lab Manager at the Wine Research Centre at UBC for one year. I then started my own business in the field of International Education.  My wife and I are raising our two daughters in Coquitlam where we have lived for fifteen years. Our whole family is enthusiastic about public welfare and cares about the community. We always teach our children to be grateful and to be generous. Over nearly the past 20 years, we have actively engaged in volunteering, and have donated to and supported a number of charities, including Eagle Ridge Hospital Foundation, Vancouver Women's Hospital, BC Children's Hospital, S.U.C.C.E.S.S. Foundation, Chinese Community Library Services Association, Terry Fox Foundation, BC Girls' Choir, Tzu Chi Foundation, local food banks, and etc. I have also actively participated in the Eagle Ridge Hospital Emergency Department expansion and the West Coast Express service expansion in the hope to contribute to a more convenient life for Coquitlam residents.
I am the founder of WCE Expansion Association advocating for the service expansion of the West Coast Express commuter train between Coquitlam City Centre and Waterfront Vancouver. I am also the Vice President of Westwood Plateau Community Association.
Eagle Ridge Hospital Foundation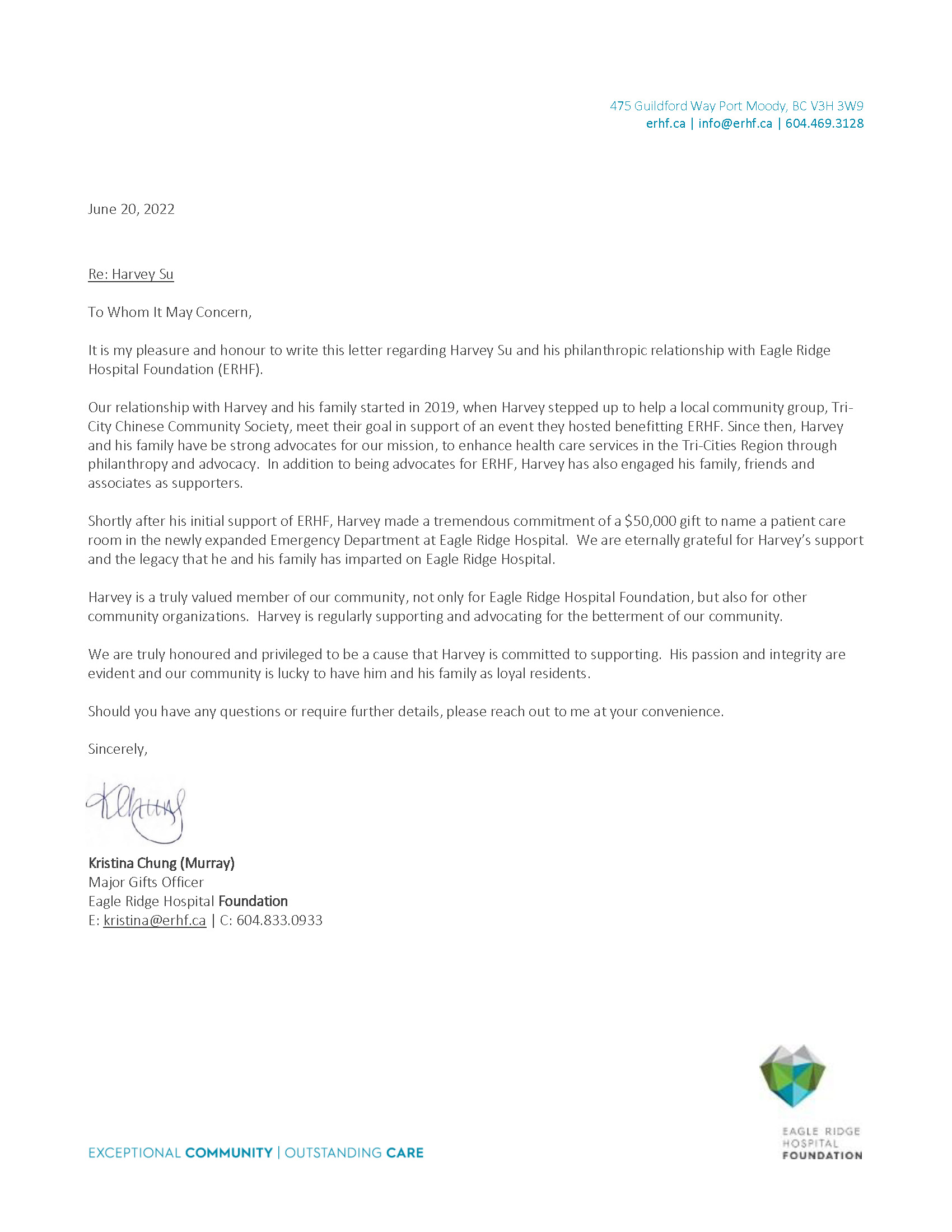 Brent Atkinson – Former SD40 School Trustee
"I have known Harvey since 2005 in my previous capacity as School Trustee of more than 32 years in the New Westminster School District. I am confident that Harvey will be an exemplary ambassador for the City of Coquitlam given his strong commitment to his family, community, and his work. Harvey has a clear vision of further economic growth for the City of Coquitlam. His businesses acumen is highly recommendable as is necessary in promoting and strengthening local businesses and providing opportunities for growth and globalization, making Coquitlam a conducive and attractive destination to live, invest in and grow the community into a diverse, yet inclusive, viable and sustainable city. It is my hope that with a Council member like Harvey Su in the city, Coquitlam will prosper ever more and continue to thrive in economic and societal globalization moving forward."
Tom Harris – Superintendent of Schools (Retired)
School District 43 (Coquitlam)
""I have known Harvey Su for more than 16 years, both personally and professionally. He is a man of strong character and integrity and is passionate about serving his community. He is a role model for new Canadians and will be a valuable addition to Coquitlam City Council."
Laurie Anderson – Executive Director, Vancouver Campus | Adjunct Professor, Faculty of Education
Interim Executive Director, SFU's Centre for Dialogue
"I endorse Harvey Su for Coquitlam council. I've known Harvey and his wife, Yvonne, for almost 20 years. My experience with Harvey suggests he fits the criteria for public office well: he's principled, hard-working, dedicated and caring. His accomplishments are a true Canadian success story and his experience will be an asset on Coquitlam city council.

"